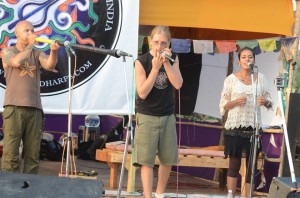 Transalento is a musical train journey from world-tribal culture to contemporary sound with the ancient voices of Didjeridoo, Mouth Harp, Facebass, Tambureddhu, electronic beats and mystical Indian vocal.
The band's unique style is innovating a fusion of traditional songs of both South Italy and India with trance-funky grooves, irregular rhythms, progressive jazz improvisation, R&B soul flavour and a tribal heart.
Come during one of the beautiful sunset hours of our three days of music at the 3rd World Mouth Harp Festival of India, and dance your way together down Transalento's deep rhythm tracks. The train is returning, and you'll want to be on it!