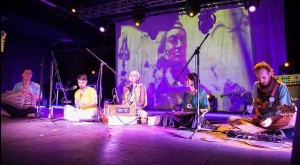 Shanti People is a Kyiv based world music band performing a fusion of ancient Vedic mantras with the support of contemporary, groovy electronics.
With a goal to popularize mantras both as a musical phenomenon and a way of spiritual practice, they use instruments such as tanpura, mridangam, tabla, karatals, harmonium, flute and bass guitar to create an atmosphere during their shows.
At the 3rd World Mouth Harp Festival of India, they will be collaborating with Cloud Jam's mouth harpist, Rustam Nurov!