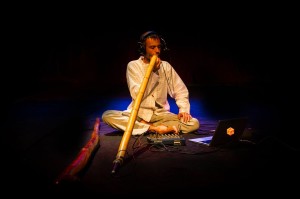 Alejandro Urilá is a multi-instrumentalist musician. 15 years ago he began playing mouth harp, self-taught. Later on he went on to study the morsing and konnakol in Chennai.
His style includes a research approach, unified with the study of traditional Carnatic mouth harp and incorporating techniques from other instruments into the mouth harp such as didgeridoo, flutes, percussion, dhrupad singing and throat singing.
He has collaborated in a few electronic and experimental world music projects, combining the mouth harp with different instruments.
In an amalgam of styles and techniques that make a musical language ranging from rhythmic mathematics, experimentation with new sounds and free improvisation, Alejandro Urilá will present his personal way on world mouth harps at the 3rd World Mouth Harp Festival of India.